Worry Free Driving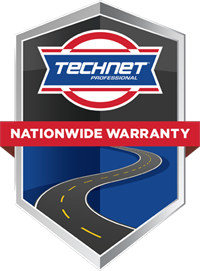 When you have service and repairs performed at a TECH-NET PROFESSIONAL AUTO SERVICE center, you're covered by a Worry-free Driving Nationwide Warranty. The Worry-free Driving Nationwide Warranty reaches across North America when you need it most providing vehicle protection on qualifying service and repairs. TECH-NET PROFESSIONAL AUTO SERVICE centers will protect your new car warranty and are committed to providing a successful and pleasant automotive service experience.
Our Warranty program covers most parts and labor for, 24 months or 24,000 miles (40,000 kilometers), whichever comes first, measured from the date of the first repair and the odometer reading shown on the original repair invoice ("Warranty Period"). TECH-NET PROFESSIONAL AUTO SERVICE repair facility.
In the event you need assistance on a warranty related repair when traveling beyond 25 miles / 40 kilometers from the original service facility, the warranty program administrator will direct you to the nearest in-network service facility to handle the warranty related repair. Ask for complete warranty coverage information and details on your next service visit.
Contact the Worry-free Driving Warranty Administrator toll-free at (866) 588-0728 and select option 1 for warranty service when outside a 25 mile / 40 kilometer radius from the original servicing location and in need of repair service.
Testimonials
Kayla P.

, 02/01/2021
I went to Advance Auto Repair and I wish I would have been going to this place with my car troubles! And being a women, you already know how many mechanics try to take advantage of us. The man here did not do that or make me feel like I didn't know what I was talking about. He was very polite and upfront with my car. The pricing is amazing so is the service! I will definitely be coming back for my car to get worked on. Highly recommend this place!
view all reviews